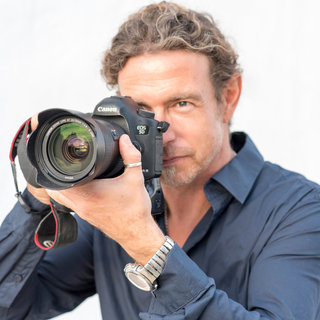 About:
Ich bin Arno, ein in Ibiza ansässiger, international tätiger Celebrity, People- und Event-Fotograf. Leben an diesem schönen Ort, an dem die Leute in den Urlaub kommen. Ich bin so zu sagen gesegnet, dass ich im Paradies lebe.
Seit meiner Kindheit beschäftige ich mich leidenschaftlich mit Fotografie. Alles was ich angehe mache ich ganz oder gar nicht. Seit 2008 fotografiere ich Hochzeiten sowie Events und Konzerte. Ich spreche deutsch (Muttersprache), englisch und spanisch.
Ich umgebe mich am liebsten mit meiner Frau und meinen 5 Katzen. Meine Frau Angela und ich haben uns 2003 kennen und lieben gelernt, reisen gern und viel, haben unzählig viele unglaubliche Erlebnisse an den unterschiedlichsten Orten gemacht, sind fasziniert von Menschen und Kulturen, und haben 2011 in Hawaii am Strand geheiratet. Ibiza ist unser Zuhause im Sommer und im Winter, wenn wir reisen haben wir ganz viele liebe Freunde und Bekannte die sich den ganzen Tag um unsere Katzen kümmern.
Style:
In meinen Fotos geht es darum, die Verbindung zwischen zwei Verliebten festzuhalten. Anstatt viel über mich zu reden, lasse ich meine Fotos lieber für sich sprechen. Wenn Ihnen mein Reportage-Stil gefällt, beginnen Sie mit der Unterhaltung! "
hier
": /contact
White Ibiza says:
Magical Connections
Fascinated by photography all his life, Ibiza based photographer Arno Lippert began his journey with the lens at the tender age of 13, when his parents gifted him with his first analogue camera. Today, Arno is a self-taught creative mastermind with a profound passion for Ibiza wedding photography.
Arno's desire is to illustrate the magical connection between the bride and groom through his editorial-style, contemporary imagery. His passion and enthusiasm guides you through your day, capturing candid pictures in addition to group shots with a fun, modern twist. Arno's priority is authenticity; capturing the unique personalities and emotions of the bride, groom and their families and friends.
From one-on-one mentoring with Germany's most high-profile photographers to shooting A-list celebrities like Elton John Sting and Lenny Kraviz, Arno understands it takes creativity to get the best shot. From ground level to rooftop Arno uses a variety of long lenses, drone footage and different angles paired with beautiful editing and custom filters, with an array of photo packages available to match any budget.
Having also shot weddings in exotic locations including Hawaii and Santa Monica, Arno believes Ibiza holds endless inspiration as a destination wedding location. Working unobtrusively and discreetly on the day, his calm natured style means you'll barely notice he's there throughout the day, but feel confident he's got your happily ever after memories under control.